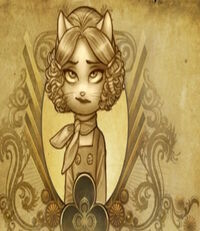 Lacy Hardt is Wick's secretary. She is first seen in "Overtime", in which she delivers Mitzi's invitation for Wick to come to Lackadaisy the following evening. Lacy next appears in "Grindstone", working with Wick at his house and threatening to stop bringing Wick coffee if she catches him pouring liquor into it. She observes Mitzi's arrival and Wick asks her to stall Mitzi. Lacy next appears in "Mephistopheles", in which she approaches Wick for a ride home because Bix is not around. While Wick is discussing business with Lacy in "Sneakthief", Mitzi steals a blank check for Sable Stone and Quarry from Lacy's purse, where Lacy was keeping the checkbook to ensure it would return to the office. Mitzi proceeds to have a conversation with Lacy where she talks about the dark fates that often befall snitches. After Wick drops Mitzi off in "Chauffeur", Lacy asks Wick whether they can stop for coffee, only because she wants to discuss his relationship with Mitzi. After Wick tells her that they have "called off the parade", Lacy expresses relief; she found Mitzi odd, and additionally noted that Mitzi had gone through her purse and took Mitzi's conversation with her as a threat.
Lacy appears having breakfast with Wick in "Conversations", in which it is revealed that Tracy eavesdrops upon her characters' conversations. Lacy notes that Wick has poured whiskey into his scrambled eggs.
Lacy was born on September 6, 1904 in Peoria, Illinois, making her 23 years old at the time of the comic, though Tracy initially stated that Lacy is 26 years old. She enjoys drinking Earl Grey tea and is a talented tennis player.[With regards to Lacy's voice, Tracy has noted that, "Counter to Mitzi's mien, she sounds like the quintessential ordinary urban girl – uncultured but with the ring of practical smarts".Lacy is a non-smoker.